A bumper crop of new clean diesel vehicles are beginning to arrive in dealerships across the country and with them a bushel more of fuel choices for consumers is coming to market. Much of this crop can run on biodiesel fuel blends ranging from B5 to B20.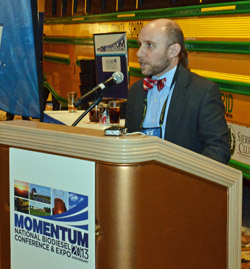 The wide-range of diesel technology was showcased during the 2013 National Biodiesel Conference and Expo in Las Vegas and a major event during the expo was the Biodiesel Vehicle Showcase. On hand to showcase their biodiesel friendly trucks, cars, buses and equipment were John Deere, Hino, Volkswagen, Ford, and Clark County School District.
Ezra Finkin, Director of Policy and External Relations for the Diesel Technology Forum, described the momentum behind the clean diesel vehicle movement in the U.S. by saying, "2013 is going to be one of the most exciting years for clean diesel vehicles in U.S. history. We've seen the U.S. market appetite for diesel vehicles shift from 11 passenger diesel models last year to more than 22 diesel models available in 2013. Industry experts predict there will be more than 54 diesel vehicles available in the U.S. by 2017, with overall diesel vehicle market share approaching 10 percent by 2020."
So what was the big takeaway at the conclusion of the Biodiesel Vehicle Showcase Event? That today's new technology diesel engines are truly a winning combination.
Learn more clean diesel technology from Ezra Finkin: 2013: Most Exciting Year for Clean Diesel Vehicles Ever
Check out the array of clean diesel technologies in the 2013 National Biodiesel Conference Photo Album.