I'll take a Hino truck please. During the Biodiesel Vehicle Showcase held during the 10th Annual National Biodiesel Board Conference & Expo in Las Vegas, Glenn Ellis, Hino Trucks' Vice President of Marketing and Dealer Operations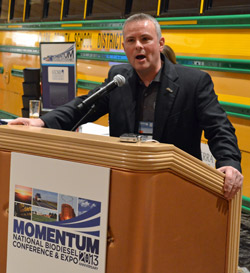 presented a game changer: the 2013 Hino 195h hybrid truck. And its already making its mark in the medium duty truck segment. The truck runs on a hybrid system of electricity and B20.
Hino Truck is the fastest growing truck manufacturer in the U.S. and hearing Ellis discuss the company's vehicle platform that includes biodiesel capability to run on higher biodiesel blends such as B20, it is no wonder why. And like most customers who try out biodiesel, Hino's customers are so happy with their biodiesel products they are asking for more.
This cool 2013 Hino 195h hybrid truck was on display during the showcase and also during open trade show hours and it drew quite a crowd. This is truly a unique truck and for all the right reasons.
Learn more about Hino's Biodiesel Platform by listening to Ellis' presentation: Game Changer: Biodiesel Hybrid Truck
You can see photos of the biodiesel hybrid truck on the 2013 National Biodiesel Conference Photo Album.