You wouldn't think so, but Nevada is one of the true pioneering states for biodiesel. Many years ago, before many knew about the benefits of biodiesel, Las Vegas began a citywide campaign to lower air emissions. The solution: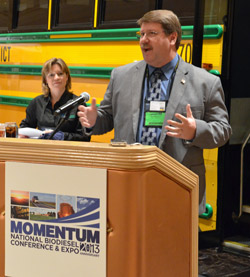 biodiesel. One of the earliest adopters of biodiesel in the country was the Clark County School District who began using biodiesel in their school buses. One major benefit: the children who ride the buses are breathing easier because using biodiesel blends reduces harmful tailpipe emissions.
Jon Howard, with the Clark County School District, told the tale of the adoption of biodiesel and with its success, they are now using B20 in their buses. During the Biodiesel Vehicle Showcase, held as part of the 10th Annual National Biodiesel Board Conference, he presented their new Thomas Built hybrid diesel school bus powered by B20.
Too bad we were inside because I would have very much liked to take a ride in this bus. Instead I had to settle for hearing the great biodiesel story as part of the event and this was still pretty cool.
Learn more about Clark County School District's use of biodiesel by listening to Howard presentation: B20 Biodiesel Buses
You can see great photos of the B20 bus in the 2013 National Biodiesel Conference Photo Album.