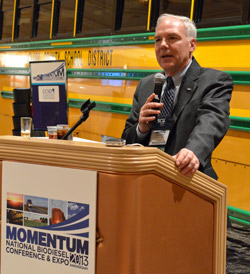 Ford Motor Company showed off its new 2013 Ford F-250 Super Duty truck that can use up to B20 during the Biodiesel Vehicle Showcase in Las Vegas. Part of the 10th Annual National Biodiesel Board Conference, the showcase featured consumer and fleet vehicles that can be powered by biodiesel.
During the event, Gerald Koss, Fleet Marketing and Product Strategy Manager unveiled the F-250, which has been America's best selling truck for 35 straight years. He also announced that Ford's new 2014 Ford Transit full size van will also be approved for use with B20 blends and will feature a B20 badge to promote the feature. This, he said, is part of the company's commitment to providing reliable, alternative fueled vehicles for their customers.
Voss also noted that customers who have purchased trucks and have run biodiesel blends, including B20 blends, are giving rave reviews.
Learn more about Ford's biodiesel platform by listening to Koss's presentation: Ford Committed to Biodiesel