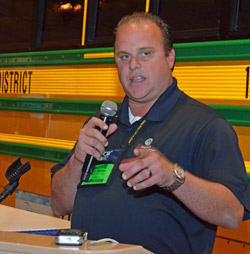 One of the reasons more American drivers don't travel the roads using biodiesel is because, well, there are not many options for passenger cars that run on diesel. But this is changing and one of the car companies leading the way is Volkswagen. It looks like the "Slug Bug's" new color is green.
Scott Monet, with Findlay North Volkswagen, was on hand to showcase two of the seven light duty diesel vehicles heading to American shores that can run on biodiesel. The company offers the widest range of passenger diesel cars in the U.S. (there are diesel choices in Europe for cars like there are gasoline choices in the U.S. for cars). In 2013 VW is offering six TDI clean diesel models: VW Jetta TDI, Jetta SportWagen TDI, Passat TDI, Beetle TDI, Beetle Convertible TDI, and the VW Touareg TDI.
Volkswagen has also unveiled a promising new VW CrossBlue mid-size SUV concept vehicle that features a highly innovative plug-in hybrid powertrain mated with a TDI clean diesel engine. All Volkswagen TDI models are currently approved for use with B5 biodiesel blends.
I've laid eyes on the Jetta TDI and it's a beautiful car. If you haven't already, check out VW's new "bio"diesel lineup.
Learn more about VW's commitment to biodiesel in Monet's presentation: Slug Bug's New Color is Green
You can see photos of several VW TDI's in the 2013 National Biodiesel Conference Photo Album.