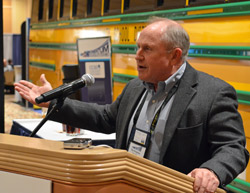 Nothing runs like a Deere. Especially a Deere running with biodiesel. John Deere demonstrated its vast array of diesel equipment able to run on biodiesel during the Biodiesel Vehicle Showcase. Why Biodiesel? Well, in addition to security benefits for Americans, it also improves lubricity, reduces sulfur emissions, and reduces aromatics. Biodiesel has a high cetane content for faster ignition. These are just a few of the reasons that Don Borgman cites when telling attendees during the Biodiesel Vehicle Showcase John Deere approves the use of biodiesel in all its equipment. Up to B20 blends can be used.
Here is something neat that John Deere does that I learned during Borgman's presentation. When new equipment is ready to leave the factory, it's filled with a biodiesel blend. Deere has coined this the "biodiesel factory fill." Now if that doesn't prove biodiesel is safe and beneficial to run in their equipment, nothing will.
Also during his presentation, Borgman gave an update on what's on the horizon for new and future John Deere equipment. And they gave away a Gator. I bet the winner is having fun with his new toy. We'll have to ask the winner during next year's conference….
Learn more about John Deere's Biodiesel Platform by listening to Don Borgman's presentation: Nothing Runs Like a Deere Using Biodiesel