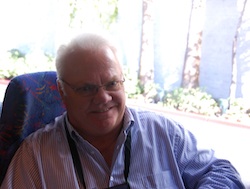 Ever wondered about the fruits of your labor? Soybean growers from around the country had the opportunity to see all the different products made from soybeans during the Farmers Las Vegas Tour (or should we say BioVegas tour) where they visited the Rebel Oil Fuel Terminal, the Biodiesel of Las Vegas plant, and the SYNLawn showroom, where where soybeans are used in the backings of carpets and artificial grass. The tour took place during the National Biodiesel Board (NBB) Conference & Expo in Vegas.
While en route to the locations, I visited with two soybean farmers. Dan Brandt is with the Minnesota Soybean Growers Association (MSGA). He and his wife farm 650 acres, half soybeans and half corn near Yoda, MN. As co-chair of domestic marketing for MSGA he works closely with the National Biodiesel Board and the United Soybean Board to enhance and develop programs to increase the use of biodiesel and other products made from soybeans.
Listen to my interview with Dan here: Working Together to Enhance Biodiesel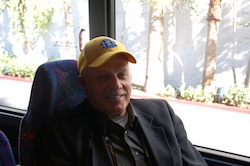 I also spoke with Lewis Bainbridge who is with the United Soybean Board and is a soybean grower near Ethan, South Dakota. As a farmer and livestock producer he has been involved and supportive of biodiesel for a very long time and the state of South Dakota was actually one of the first states to get the NBB going. He said he enjoyed the clip that highlighted the past 20 years, and in the early 90s there was a kickoff event in South Dakota and Bainbridge was there. This he said, was how he got started using biodiesel.
You can hear more about the collaborative efforts of the soybean groups in my interview with Lewis: Soybean Groups Collaborate for Success
Check out the pictures of the tour in the 2013 National Biodiesel Conference Photo Album