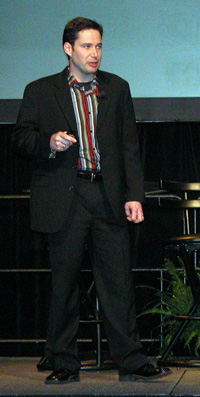 The conference has officially kicked off with the opening general session. To get us started, NBB CEO Joe Jobe, welcomed everyone and discussed the current situation in the biodiesel industry.
The opening session also included remarks from NBB Chairman, Darryl Brinkman, USDA Undersecretary for Rural Development, Thomas Dorr and Biodiesel America author, Josh Tickell.
I'll be posting audio from their remarks just as quickly as I can get it processed and uploaded.
The "Eye On Biodiesel Awards" that were going to be presented this morning have been shifted to Wednesday morning. Time was slipping away and we wanted to stay on schedule.
Educational sessions begin shortly after this morning's break. I'll bring you more information on them as the day wears on.