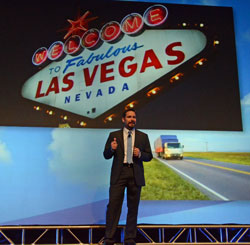 The opening general session of this year's conference was a fantastic look back at 20 years of the National Biodiesel Board and 10 years of this conference. We'll be sharing some of those moments during the next couple days as we make new memories.
Here are some excerpts from this morning's opening speech by Joe Jobe, CEO of the NBB.

In thinking about what I wanted to say today it occurred to me that the past and future of the biodiesel industry can best be described in three distinct eras. These eras are distinct for the biodiesel industry but also distinct as stand-alone eras in history.
The first 10 years, is what I think of as biodiesel's childhood. The second 10 year era, roughly the past decade, is what I think of as biodiesel's teenage years. And like many teenagers, the industry was awkward, rebellious, and emotionally unstable during this period.
And then finally I will talk about the next ten years, which I believe is the era where biodiesel enters early adulthood.
Biodiesel will be in its 20's during this period and like most people in their 20's, this era will provide a lot of exciting growth, development, and innovation to look forward to – as long as we stay dedicated and unified as an industry.

You can listen to all of Joe's opening speech here: Joe Jobe Opening Speech