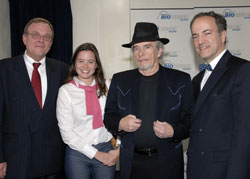 Volkswagen was the sponsor of last night's Merle Haggard concert. Several representatives from the company were on hand.
Pictured are (left to right) Dr. Norbert Krause, Director of Engineering and Environmental Office for Volkswagen of America, Kristen Cleven, Volkswagen Governmental Affairs, Merle and Davide Geanacopoulos, Director of Industry/Government Relations.
Volkswagen is a gold sponsor of the Conference and supplied 2 of their brand new Toureg TDI's for use in the ride and drive.
Biodiesel Conference Blog sponsored by