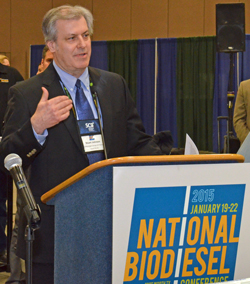 The Biodiesel Vehicle Showcase Event at the conference gave attendees a chance to get a sneak peek at what the automakers will be offering in terms of what will be available in the near future, especially in terms of biodiesel compatibility. News from Volkswagen's Stuart Johnson was certainly music to the ears of those attending.
"Our strategy for Volkswagen is to have a diesel engine in every single model we offer in North America," Stuart said, pointing out that only one SUV, the Tiguan, doesn't yet have a diesel option. And he says they also want to have diesel offerings for VW's other brands, including luxury Audis and even Porsches. "These modern diesel engines are so refined that they fit in a luxury car very well."
Volkswagen is also big on using biodiesel in these vehicles and has worked hard with the National Biodiesel Board (NNB) and industry to make sure the fuel is up to specifications and will perform well in its diesel offerings. Stuart was glad to hear about the new BQ-9000 Retailer Program, which will ensure the quality of the biodiesel through the entire process, right into the consumers' fuel tanks.
"All OEMs want the quality of fuel come all the way down to the retail level," Stuart said, adding that this new program could be like the gasoline industry's top tier program, but for biodiesel. "It's something we're really excited about, and it's something we think is really good for our customers."
You can hear to Stuart's remarks here: Stuart Johnson, Volkswagen, at Vehicle Showcase