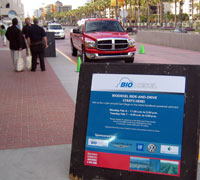 I mentioned the Ride & Drive before and never actually got a chance to do it myself.
During the first two days of the conference you could take a spin around San Diego in the latest diesel vehicles like this Dodge Ram 2500.
Other vehicles that were available included a Jeep Liberty CRD, Volkswagon Jetta TDI and Chevy Express 2500.
See the release on, DaimlerChrysler Approves Use of B20 in 2007 Dodge Ram Pickup Trucks here.