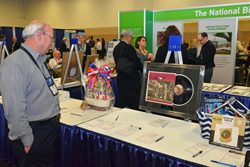 Just like every year at the conference attendees had lots of opportunities to support the National Biodiesel Foundation. One of those ways is an auction with some very unique items to bid on. The auction is mostly open during the trade show and had a lot of traffic this year.
The Foundation works closely with the National Biodiesel Board to address national issues affecting us all — cleaner air, greater economic development for rural communities, and enhanced national security through energy independence. Organized in 1994, our mission is to accomplish outreach, education, research and demonstration activities for the advancement of biodiesel.
If you couldn't attend the conference you can still support the National Biodiesel Foundation. Just go online to make a donation.