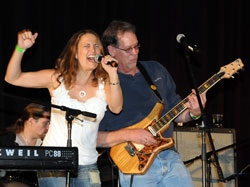 After the opening Super Bowl Party we had music on stage from Emily Richards and Jason Brock, long time attendees and performers.
Joining them were several members of the Biodiesel Jam Band. Here's Emily with Scottie Nisula on guitar. We had a number of other folks join in on stage including NBB CEO Joe Jobe.
Here's the group playing one of their numbers in a video clip:
I've now got a photo album started which I'll be adding to during the convention. Our opening general session is about to start so I've got to get over there. I'll be doing some posts afterward that will include audio from the session. Check back here often for updates.