PACCAR was honored with this year's Eye on Biodiesel "Initiative Award" for their commitment to #biodiesel blends. Giving remarks during the Biodiesel Showcase, Jason Johnson, director of aftermarket for PACCAR, announced that the new PACCAR MX-11 engine and all model years of its MX-13 engine, both legacy models and new equipment, are now approved for use with B20. More than 100,000 trucks, both new and old, join the biodiesel ranks and each year and these vehicles drive more than 12 billion miles. With this announcement, Johnson said there are now nearly 1 million Peterbilt and Kenworth medium and heavy duty trucks approved for use up to #B20 biodiesel blends.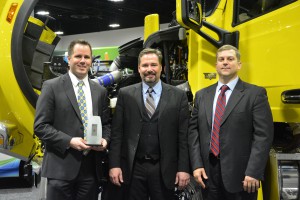 Addressing an engaged and excited crowd, NBB CEO Joe Jobe said, "PACCAR's support underlines that biodiesel is the single best carbon mitigation strategy out there; with widespread support across all diesel applications, we are perfectly positioned to deliver even more cleaner burning biodiesel into the marketplace. The U.S. biodiesel industry has invested over twenty years of research and development activity to provide the highest quality biodiesel fuel for the marketplace, and today we recognize PACCAR for taking the initiative to endorse B20 biodiesel blends for use in your equipment."
Landon Sproull, PACCAR assistant vice president, said in a statement following the award announcement, "PACCAR is pleased to earn the Eye on Biodiesel Award while we are expanding PACCAR's engine line of B20 compatible engines. Our new B20 compatible PACCAR MX-11 engine is available in Peterbilt and Kenworth trucks beginning in January 2016, joining our highly successful MX-13 engine. PACCAR designs and builds the most durable, fuel-efficient and highest quality heavy-duty truck engines in the world, and PACCAR engines perform well using a variety of fuel sources."
"Increasing our support level from B5 to B20 biodiesel blends provides more choice and value to PACCAR's customers," Sproull added.
To learn more about PACCAR's commitment to biodiesel and to learn more about the "bright yellow truck," watch my video with Jason Johnson.