The biodiesel industry has many to thank for efforts that have lead to greater adoption and support of biodiesel. One area that has been an early adopter is the Big Apple – New York City. Under the leadership of John D. Maniscalco, the CEO of the New York Oil Heating Association, New York City recently passed landmark registration: beginning in October 2012, all heating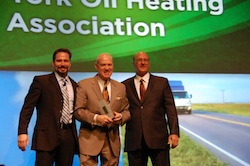 oil sold in the city must contain at least two percent biodiesel.
This cleaner burning, domestic fuel blend known as Bioheat® will replace up to 20 million gallons of petroleum a year. The efforts of Maniscalco and the support provided by the New York Oil Heating Association made this unprecedented legislation possible.
It is these efforts, along with others, that led to his Eye on Biodiesel award from the National Biodiesel Board (NBB), during the National Biodiesel Conference & Expo this week in Las Vegas.
With the help of NBB and its dedicated Bioheat program, there is currently a Bioheat consumer education campaign running in NY. Maniscalco hopes this will increase awareness and support of biodiesel. His next two goals for this year are to increase the Bioheat legislation to the entire state of New York, as well as increase the Bioheat biodiesel blend of 2 percent to at least 5 percent.
Listen to John's presentation here: Industry Engagement Critical