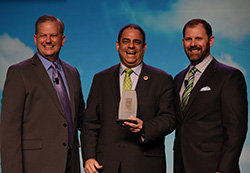 New York City passed a measure in 2016 introduced by City Council Member Costa Constantinides that makes the Big Apple a big leader in the use of biodiesel for heating oil.
The bill created fuel standard that grows the amount of biodiesel in heating oil in the City from the current two percent level to five percent October 1, 2017. The blend level then moves to 10 percent in 2025, 15 percent in 2030, and 20 percent in 2034. It is estimated that the increase from a two percent biodiesel blend to a five percent blend in the city will reduce the emissions equivalent to taking 45,000 cars off the road with the increase to 20 percent the equivalent of removing more than a quarter of a million cars.
For his strong support of biodiesel, Constantinides received the 2017 "Eye on Biodiesel" Climate Leader Award.
Listen to his comments to the general session and to the media in these audio files:
Costa award comments Costa media comments