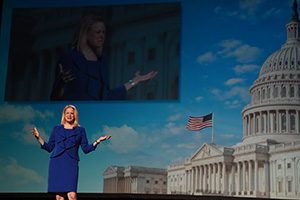 Uncertainty and change are nothing new for the biodiesel industry, so the new administration is just one more challenge to overcome.
"While the transition to any new administration brings both challenges and opportunities, this new president comes with greater uncertainty than most," said National Biodiesel Board (NBB) Vice President of Federal Affairs Anne Steckel. "Regardless, our past success is a good indicator for how we will achieve our goals in 2017."
Steckel says successes in 2016 included a favorable increase in volume obligations under the RFS, while a major goal for the coming year is working toward getting a producers tax credit approved by Congress.
Listen to Steckel's comments at the general session here: NBB DC Update