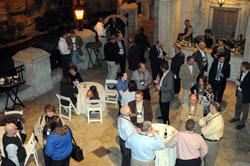 After all the sessions were completed today members of the National Biodiesel Board got to relax with a nice reception. If you're not a member of the NBB then you should become one!
We're going to have another great day of sessions tomorrow with a morning general session on Understanding Feedstock Realities of Today and Tomorrow. I'll be posting information from it as soon afterward as possible.
In the meantime, I have the photo album up to date so please feel free to browse it and download any that you'd like.