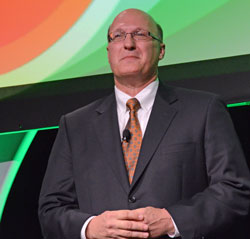 The Chairman of the National Biodiesel Board visited with the media this morning. We took turns conducting interviews. I went last and asked Gary what his outlook for this year's conference is.
He says the outlook is positive as "we're seeing our industry grow." The conference attendance is up from last year. I asked him about policy issues like the currently expired tax incentive. He says they are working hard to get it re-instated since he believes that our policy makers know how important it is. If you don't understand why then listen to my interview with Gary for some of the reasons.
Listen to my interview with Gary here: Interview with Gary Haer
Remember that you can follow what the Twitterverse is saying about the conference using the hashtag #NBB12.