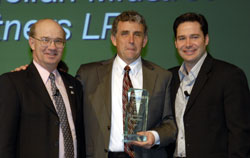 Each year the National Biodiesel Board bestows the "Eye on Biodiesel" awards, designed to recognize individuals and groups who have advanced the board's mission of public education and industry growth. The awards were presented by NBB Chairman Darryl Brinkmann (left) and NBB CEO Joe Jobe (right). Award for:
Industry Partnership – Rod Lawrence/Magellan Midstream Partners LP, Manager of Quality and Analytical Services.
Under Rod Lawrence's direction, Magellan Analytical Laboratories has been closely involved in biodiesel testing and analytical method development for more than 15 years. Lawrence's Magellan lab, then Williams Pipeline, was the first host of the biodiesel industry's Technical Brainstorming Workshop a decade ago. Lawrence has played a leadership role in developing the industry's BQ-9000 program, as well as the ASTM specifications. Lawrence and Magellan have given of their own resources, working with other petroleum and biodiesel companies to understand and help prevent quality control issues. Biodiesel blends are now available at nine Magellan terminals which handle over 600 million gallons of diesel fuel annually.
Listen to the presentation with Rod here:

Rod Lawrence Award Presentation (3 min MP3)
Biodiesel Conference Blog sponsored by