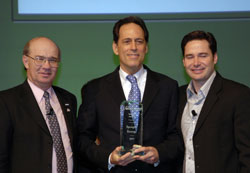 Each year the National Biodiesel Board bestows the "Eye on Biodiesel" awards, designed to recognize individuals and groups who have advanced the board's mission of public education and industry growth. The awards were presented by NBB Chairman Darryl Brinkmann (left) and NBB CEO Joe Jobe (right). Award for:
Impact – Sprague Energy – Steve Levy.
A progressive Northeastern petroleum distributor has become the first petroleum company in the nation to earn the status of BQ-9000 "certified marketer." The New Hampshire-based energy wholesaler also opened the first rack-blended biodiesel terminal in New York. The terminal stores and supplies 40,000 gallons of pure biodiesel for blending in over-the-road applications and #2 heating oil (Bioheat® heating oil) in several states.
Listen to the presentation with Steve here:

Sprague Energy Presentation (3 min MP3)
Biodiesel Conference Blog sponsored by