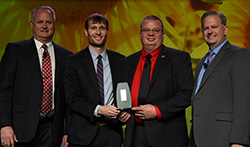 The Illinois Soybean Association Checkoff Program and the state's American Lung Association received the Eye on Biodiesel Industry Partnership Award this year for the very successful B20 Club program.
This program is focused on raising the profile of exemplary fleets that use B20 in any type of diesel engine. Members range from municipalities to school buses to over-the-road trucking companies. Sharing their success stories with other fleet managers and decision makers has had a significant impact on those who have been hesitant to use B20 for reasons ranging from economics to engine warranty questions. The B20 Club showcases real stories of how, when, and why members began using B20, what their experiences have been since the switch, and provides peer support for fleet managers and other decision makers who are considering B20 for their own fleets.
Accepting the award were Illinois Soybean Association board member and farmer Jeff Lynn and John DeRosa, director of the American Lung Association in Illinois. Industry Partnership Award
The B20 Club was also the subject of a panel at the conference, where Sarah Mark with the City of Moline told her story of how they switched to biodiesel. Listen to an interview here with her and Jeff Lynn. Interview with Sarah Mark, City of Moline and Jeff Lynn, IL Soybean Assn.