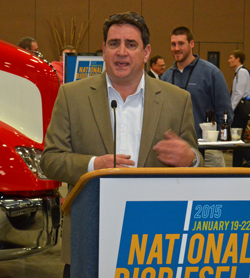 Not only does Hino want its trucks to haul the feedstocks that go into making biodiesel, but the big truck maker wants them to get there on biodiesel.
"Our 33,000-pound diesel truck can be used by you guys hauling bio stock, and you can run it on a B20 blend, anytime you want," Spencer Nicol, Hino's senior manager for strategic product applications, told attendees of the conference's Biodiesel Vehicle Showcase Event, thanking the National Biodiesel Board folks who have helped bring Hino's biodiesel-compatible trucks to Midwesterners' attention.
Spencer also made sure to point out that Hino, a division of Toyota, builds many of its models in the U.S. at a plant in West Virginia and components in Arkansas.
During the Ride-and-Drive event at the conference, Hino was also able to show off its new 195h hybrid diesel medium duty truck.
You can hear to Spencer's remarks here: Spencer Nicol, Hino, at Vehicle Showcase