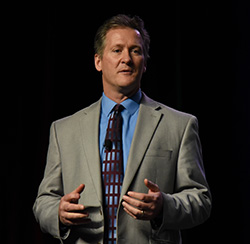 General Motors is fueling America's future with biodiesel by expanding its B20-capable lineup to include new cars, crossovers and trucks.
John Schwegman, Director of Commercial Product and Medium Duty Product for General Motors, delivered the welcome news to an enthusiastic crowd at the 2017 National Biodiesel Conference & Expo in San Diego.
"Diesel propulsion deserves wider consideration by fleet managers across the country," Schwegman said. "With biodiesel production and retail distribution expanding, and so many proven benefits, we believe more fleets will embrace the technology as part of their sustainability plans. If our diesel customers fueled exclusively with biodiesel, we estimate that consumption of petroleum-based fuels would be reduced by hundreds of million gallons annually."
Listen to Schwegman's announcement here: GM announcement at #NBB17
Learn more about the new GM diesel options.