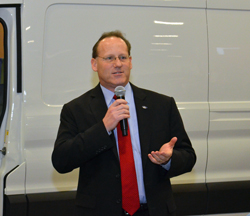 Biodiesel has long been a workhouse of the nation's renewable fuel industry, and Ford Motor Company wants to make sure the green fuel is used in work vehicles that also get things done.
"When you think about those trucks, they might not be your daily driver, but you rely on those trucks every day. Those are the trucks that repair your roads. Those are the trucks that work on the oil and gas industry. Those are the trucks that repair your utility lines," said Jon Coleman, Ford's sustainabliity and technology manager, pointing out this his company has been working with biodiesel for 20 years to help people who keep America running. "The plumber, the florists, the bakers, and the guys who fix your air conditioning, they need to be able to use biodiesel, too. So we launched the new Transit [van] this year that [has options to run on seven different fuels], including biodiesel."
Jon said Ford is all about choice, and he hopes workers will consider Ford options, especially those that run on biodiesel. He also told the audience that the new biodiesel-compaitible F-650s and 750s coming this summer will be built in the U.S., just like biodiesel, bringing jobs back to America.
You can hear to Jon's remarks here: Jon Coleman, Ford, at Vehicle Showcase