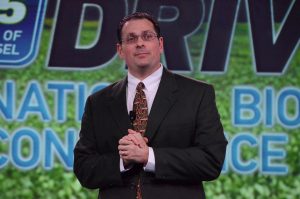 The new Ford F-150 was in the spotlight last week at the National Biodiesel Conference as it joins the F-250/350/450 Super Duty® and F-650/750 medium duty trucks as well as the Transit van to round out Ford's strong line-up of diesel models supporting the use of B20 biodiesel blends.
Dominic DiCicco, Ford's Manager of Environmental Policy and Fuel Quality, commented, "Ford is committed to offering our customers the power of choice with a wide range of alternative fuel and advanced powertrain options to help fleets reduce their carbon footprint and help our nation achieve its goals. Adding the new F-150 3.0L Power Stroke diesel to our lineup of diesel models supporting the use of clean, renewable, low-carbon B20 biodiesel blends, complements Ford's sustainability goals, and we are excited to bring this product to market for our customers."
Ford dealers have begun taking orders for the 2018 F-150 with all-new 3.0-liter PowerStroke® diesel engine, and deliveries begin this spring.
Listen to DiCicco's comments here: NBB18 Dominic Dicicco, Ford