The National Biodiesel Board annual "Eye on Biodiesel" awards recognize individuals and organizations who have made significant contributions to biodiesel in a number of areas.
United Soybean Board Director of Bio-Based Products Mike Erker was honored with the 2020 Impact Award.
Erker's work on the United Soybean Board has helped move the needle forward and create market opportunities for America's Advanced Biofuel. Under his unwavering leadership, Erker leveraged and facilitated the strong relationship between USB, soybean farmers, and the National Biodiesel Board. Through his extensive knowledge of biodiesel, he was able to educate producers and foster the support needed to create new opportunities for soybeans.
NBB2020 Impact Award - Mike Erker, USB
(2:00)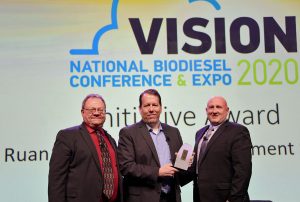 Ruan Transportation Management Systems received the Initiative Award this year.
Ruan currently uses alternative fuel types including biodiesel, compressed natural gas (CNG), renewable natural gas (RNG), and renewable hydrocarbon diesel. Ruan began exclusively using biodiesel blends for its bulk diesel tanks in 2017. Ruan currently operates 4,000 tractors in 48 states across the country. Accepting the award on behalf of Ruan Transportation Management Systems was Steve Larsen, Director of Procurement and Fuel.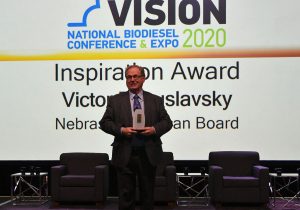 The Inspiration Award this year went to Victor Bohuslavsky, Executive Director of the Nebraska Soybean Board.
Bohuslavsky spearheaded support for and development of the biodiesel industry in Nebraska after recognizing the glut of soybean oil that needed a new market to add value to the state's soybean farmers. Under Bohuslavsky's leadership, NSB also played a vital role in the development of the Bioheat® market on the East Coast through supporting organizations such as the National Oilheat Research Alliance (NORA) and Brookhaven National Laboratory, along with work at NBB.
Also honored this year were the Northeast Heating Coalition with the Industry Partnership Award, and Purdue University agricultural economist Wally Tyner, who was posthumously presented with the Pioneer Award.
Photos