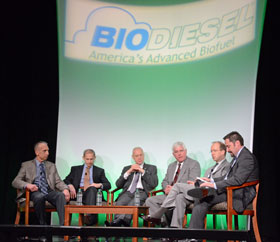 During the opening general session of the conference a panel discussion featured Charles Drevna, American Fuel & Petrochemical Manufacturers Association; Michael Ferrante, Massachusetts Oilheat Council; Dan Gilligan, Petroleum Marketers Association of America; Joe Jobe, NBB and John Maniscalco, New York Oil Heating Association. It was a session that one person tweeted, "Maybe the most candor I've ever seen in a general session conversation at a conference. Very interesting #nbb12" I fully concur. Here's how our program described the session.

Have you noticed that oil companies don't call themselves "oil companies" anymore? They have repositioned themselves as "energy" companies and a few even tout their commitment to biofuels in their advertising campaigns. Are public perception and policy pressures at the root of this shift? Or are we at the beginning of a true energy renaissance? How does the federal Renewable Fuels Standard impact their business plans, including infrastructure, and what can we do to make sure the RFS is here for the long haul? Top
brass among petroleum trade associations will discuss everything from the industry's perception of biodiesel as a mainstream product to the future of Bioheat® and how energy policy will leave a lasting imprint on everyone in the energy industry.

Listen to the panel discussion here: Panel Discussion
Remember that you can follow what the Twitterverse is saying about the conference using the hashtag #NBB12.