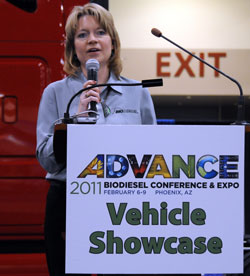 Inside the trade show during lunch you can find some very interesting biodiesel powered vehicles. The showcase session included comments from various auto company and vehicle representatives, some of whom are revealing their latest products here at the show.
The vehicles themselves will be on display throughout the show so if you haven't stopped by take time to visit.
Pictured is Jennifer Weaver, NBB OEM Outreach and Education Program. I've got photos of the vehicles on display in the photo album in case you miss them.
You can listen to the full presentation from the vehicle showcase here: [audio:http://www.zimmcomm.biz/nbb/nbc-11-vehicle-showcase.mp3]