Industry experts from the Diesel Technology Forum (DTF), National Association of Fleet Administrators (NAFA), and National Truck Equipment Association (NTEA) who spoke at the National Biodiesel Conference agree that the forecast for diesel powertrains looks strong and steady.
National Biodiesel Board Technical Director Scott Fenwick moderated a panel on the topic featuring Patti Earley, Florida Power and Light Fleet Fuel Operations Specialist; George Survant, Senior Director of Fleet Relations for NTEA; and Ezra Finkin, DTF Director of Policy and Outreach.
"Diesel powertrains are the technology of choice for commercial trucking because of their unique combination of power, efficiency, durability, range, reliability and performance" said Finkin.
That has certainly been the experience for Florida Power & Light's 3,600+ vehicle fleet, which has been using B20 successfully for twenty years. The FP&L fleet has consumed around 2.5 million gallons of B20 biodiesel blends annually since 2003.
"The FP&L fleet has driven well over 150 million miles on B20 biodiesel blends with continually positive maintenance, performance, and mileage results and no biodiesel related issues," said Earley, who is incoming President of the NAFA Fleet Management Association.
Survant said, "If you are looking for an effective transition solution to move your fleet in a healthier, cleaner direction – one that is available immediately, cost-effective, and widely accepted among both vehicle manufacturers and fleets – then using clean, renewable biodiesel blends in your diesel vehicles is the ideal solution."
Listen to their conversation here and watch the video below: NBB19 Biodiesel Vehicle Technology panel 1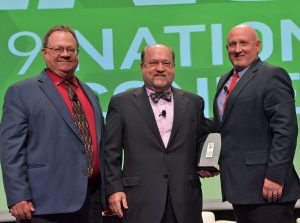 Survant accepted the National Biodiesel Board Industry Partnership Award on behalf of NTEA, which represents more than 2,050 companies that manufacture, distribute, install, sell, and repair commercial trucks.
Presenting the award, NBB Senior Technical Advisor Steve Howell said the partnership with NTEA has been instrumental in getting biodiesel information to the critical audience in the work truck industry.
2019 National Biodiesel Conference Photo Album