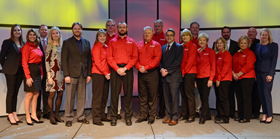 Here is the staff of the National Biodiesel Board. It was a rare moment to have them all together for a photo since they all have so many different duties during the annual conference. So as the conference came to a close here are this year's top 10 overheard quotes:
10. "I've never heard of a farmer planting a roadside bomb by his field to defend his crops." – David May, of the Iowa Department of Transportation, who spoke in a session where military veterans discussed personal connections between energy security and national security. May is a Biodiesel Ambassador.
9. "Folks in the heating oil industry are pushing hard and fast for Bioheat® fuel. You are changing that world." – Tom Butcher, Brookhaven National Laboratory, has played an instrumental role in research leading to expected official performance specifications that approve 6-to-20 percent biodiesel blended into traditional heating oil. He made the comment as he accepted the NBB Innovation award.
8. "The rest of the world is looking to the people at this conference to lead future generations towards renewable energy." – Brian Hendrix, pursuing a master's degree at the Massachusetts Institute of Technology, was one of 30 Next Generation Scientists for Biodiesel attending the event. He and other students received a travel scholarship through NBB.
7. "Soy is grown for protein." – Beth Calabotta, a leading plant and biodiesel scientist, drove the point home during a myth busting session – busting the myth that soy is grown for biodiesel, when in reality the oil used to make biodiesel is a byproduct of protein.
6. "We have great people, and great innovation. Our charge is to go forward, and succeed, because we won't give up." – Steven J. Levy, NBB chairman, in his Day 2 opening address.
5. "As both a former governor and a Naval officer I can tell you energy security remains among biofuels' most important benefits." – Matt Blunt, former governor of Missouri, during his Day 2 keynote speech.
4. "This program is the last cog in biodiesel quality from well-to-wheel." – Scott Fenwick, NBB technical director, announcing the new Retailer addition to the BQ-9000 fuel quality program that will encourage retail stations to become accredited under the program.
3. "Washington's inability to live up to the Renewable Fuel Standard suggests to me that there is not a minimum threshold there for embarrassment." – Sen. Byron Dorgan (Ret.), on a federal policy panel, pulled no punches on Washington for leaving the biodiesel industry hanging in a perpetual state of limbo.
2. "2015 has to be the year we get back to the future of the RFS program and out of the uncertainty the past." – NBB CEO Joe Jobe, who received a standing ovation during his opening address. He said federal policy makers must see through the false attacks by renewable fuels opponents and provide certainty for this advanced biofuel industry.
1. "If you're in this room today, you're a survivor." – Gene Gebolys, CEO of leading biofuels provider World Energy, addressing attendees during a plenary panel of CEOs. He's been involved in the biodiesel business since the 1990s, experiencing firsthand the merry-go-round of the industry.
A common point of discussion was the industry's 1.75 billion gallon production in 2014, down slightly from the previous year. Organizers said conference attendance reflected the industry's challenging times. Yet industry and policy experts also expressed optimism that this year, America's Advanced Biofuel will regain stability and get back to growth.
2015 is a year that holds a lot of hope for the industry. You could see and hear that throughout the conference and I'm glad to once again have the opportunity to be your Biodiesel Blogger!