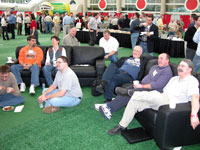 It's only half time so I wonder who's going to win this one. It's Super Bowl party time and I think everyone's having a great time."
There's plenty of food. Bratwurst, Chips & Salsa, Sandwiches, Soda and of course, Beer.
We're getting treated to the Rolling Stones during the half time show.
The serious business kicks off tomorrow and we'll have a lot more to come.